Red Meat Integrity System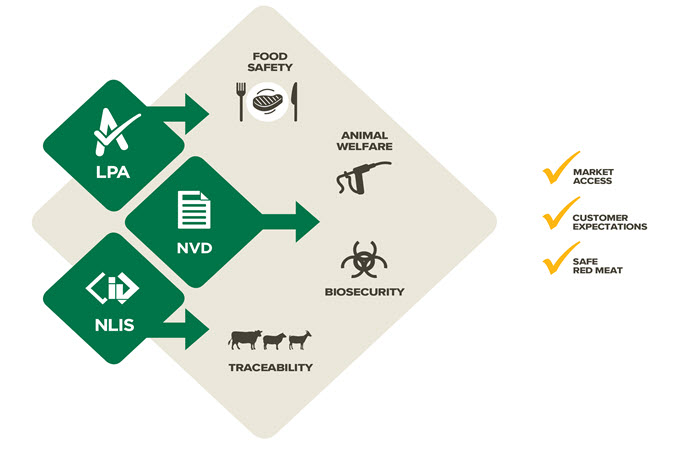 People who enjoy Australian beef, sheepmeat or goatmeat trust that it is safe, ethically-produced and of a high quality.
As a trusted product, Australian red meat is sold in more than 100 countries throughout the world. It is this trust that allows Australian livestock producers to stand by what they sell.
Maintaining trust in Australian red meat is not something that is left to chance.
A system of food safety measures, quality assurance and traceability from paddock to plate guarantees the integrity of Australia's $22.9 billion red meat industry.
Three industry owned elements of the red meat integrity system are:
NLIS enhances Australia's ability to track livestock during disease and food incidents. It provides information through identification and traceability of livestock that underpins market access for Australian red meat globally.
LPA is an independently audited, on‐farm assurance program covering food safety, animal welfare and biosecurity. It provides evidence of livestock history and on-farm practices when transferring livestock through the value chain.
Producers declare this information on LPA NVDs, which are required for any movement of stock to processors, saleyards or between properties if they have different Property Identification Codes (PICs).
NLIS, LPA and LPA NVDs are complemented by off-farm food safety initiatives, which together build a culture of shared responsibility among all Australian livestock owners: one that acknowledges and embraces their role and reputation as suppliers of safe, ethically-produced and high-quality food.
The three elements of the red meat integrity system underpin the strong, profitable and prosperous long-term future of an industry that employs more than 200,000 people and makes a vital contribution to our national and regional economies.
Watch a short video explaining why Australia's red meat integrity systems matter from the perspective of producers, processors and the industry overall.